Features
| | |
| --- | --- |
| Type | Upright pianos |
| Mechanic | 3 pedals - damper |
| Castor | Yes |
| Dimensions | 113 cm X 149 cm X 54 cm |
| Weight | 194 kg |
| Available for rental | Yes |
The advise of J-F Hanlet
Based on the B1, this more elegant model has a greater sound capacity and allows a larger range of expressiveness and nuances. It now possesses a soundboard made of massive spruce from which result a better tone quality and an unequalled longevity.
Description
Affordable Quality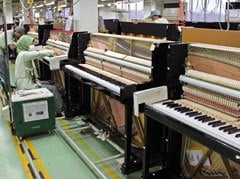 Produced at a Yamaha factory in Indonesia from a scale design developed in Japan, b Series pianos are Yamaha's most affordable entry-level uprights. Although reduced production costs allow budget-friendly prices, Yamaha makes no compromises in the materials and workmanship that go into these exceptional uprights.
Quality Components, Quality Sound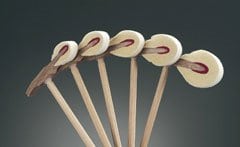 Supported by four sturdy wooden back posts and a strong cast iron frame, b Series pianos are endowed with Yamaha's renowned pure, clear tone. High-grade hammers and a proven action design offer effortless playing and a highly responsive keyboard 'touch' that make these uprights ideal for beginning players.
Design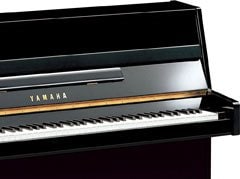 Yamaha's b Series features pianos in a range of heights, widths, and depths. The b1 and b2 boast slender profiles, making them ideal for small spaces. With its larger dimensions and heavier construction, the b3 upright requires a little more room but brings a rich, far-reaching sound.
User's testimonials
No customer comments for the moment.